Quandary is back!
Quandary once again features seasonal packs to bring your Minecraft world to life! Create a living and breathing universe where you experience warm summer days and cold winter nights. Simply grab the specific season you're looking for and drop it into your Minecraft texture folder; or, if you'd prefer, you can
pick up all six seasons
in one easy download.
Looking for some Quandary-related Minecraft inspiration?
The folks over at The Udder Punch have a
series of Minecraft vid-casts
where they use Quandary to explore rich environments, solve adventure puzzles, and generally have lots of fun. Go check it out!
The Quandary texture pack for
Minecraft
is designed to act as a subtle replacement to the original Minecraft textures. Quandary uses the original textures and adds more fidelity to the terrain, items, and interface, improving the visibility of world blocks. In other words, two players playing on the same server will be able to experience the same "feel" even when one is using the Quandary texture pack and the other is using the default textures.
Love it! [...] Many subtle changes while preserving the original atmosphere.
Morgus
[...] Everything returned to "normal" and I grew complacent and took the beauty for granted. Then... the dreariness befell once more, and I realized – I'd just got taken for an emotional ride that I thoroughly want to enjoy again.
Mitijea, on seasons using Quandary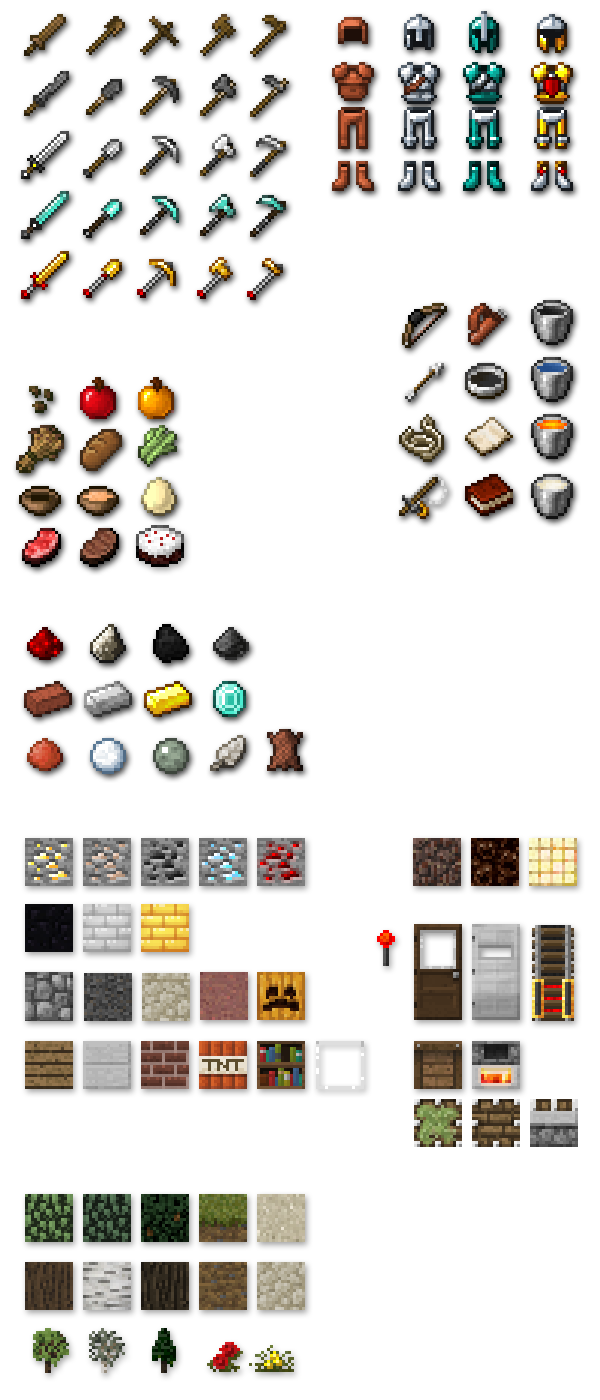 No problem. You can usually find me in the IRC chatroom for Retribution Games (#retribution on SynIRC), but you can also contact me at
ExtraNoise@gmail.com
. I'll be happy to help as much as I can. Really I just want to see you happy using this texture pack.
I think the biggest thanks you could give me is recommending Quandary to your friends or on online communities. I love seeing screenshots and videos (particularly on SomethingAwful and Reddit), so take some screenshots from time-to-time as well.
A small monetary donation keeps my wife happy that I'm doing something constructive with my time. Shh, just don't tell her exactly what it is. And keeping her happy allows me to continue spending my free time working on these textures.
Change Log
v1.9 Long story short, I added 1.8 and 1.9 textures..
v1.7 Blocks/items including dark oak and acacia related blocks, stained glass, red sand, packed ice, podzol, new flowers/grasses, new fish, and more(p.s. the poppy texture is the old rose!) Stained clay textures, new/revised brewing stand texture(s), fixed golden horse armor, and better coal blocks! 1.8 blocks/items including barrier blocks, slime blocks, the new stones/polished equivalents, iron trap doors, and endermites. New splashes for the title screen, including references to various games, youtubers, books, and even chemistry!
v1.6 Fixed formatting for some files, Re-added optifine/mcpatcher support after v1.5.1, Added wither heart buff(shows up in invenotry), Note: Horses and stained clay blocks have remained the default textures, although I will likely texture the stained clay blocks(and possibly even horses) in a future update
v1.5.1 New water texture(animated)
v1.5 Updated to Minecraft 1.5
v1.4 Lot's o stuff: ink sac, wither, wither skeleton, beacon block, anvil, redid a few textures bat, creative inventory gui, added font fixed, some more stuff probably forgot some stuff I did
v1.3 More stuff
v1.2 Added lots of textures in items.png and some blocks.
v1.1 Added textures for enchanted book, firework, firework star, and the music disc "wait"
v1.0 Texture pack released.
Credits
Cpt. Corn - Armor, Terrain, Website
Author of
Coterie Craft
:
Coterie Craft
Still to come...
1.13 and Bedrock version support!
Copyright © 2010-2013 Rick Pierce &
Retribution Games
. Mobs copyright. © 2010 Bonemouse, used with permission. Additional art and armor art copyright. © 2011 Cpt. Corn, used with permission. Quandary Reborn current trademark holder and maintainer, Immediacy. © 2012-2018 Website Revival © 2018 Cpt. Corn
Step outside; summertime's in bloom.